Module III Overview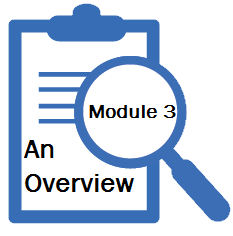 What's Covered in This Module?

In the last module, we covered SEO copywriting from a broad perspective; ie, how search engines work and what they look for to find and rank sites.
In this module, we're going to drill down to the cornerstone of what you need to know about writing effective SEO content – keywords. We'll discuss keywords in depth, specifically covering:
How to conduct keyword research;

Where to place keywords in copy;

How to write SEO articles; and


How to write themed SEO content.
After walking you through the various components of a SEO article, your exercise in this section will be to write a search engine-optimized article.
There are some sample SEO articles within so you can see first-hand what good and bad ones look like.
Practicing writing this type of content will give you the confidence you need to approach clients. Once you write a few, you'll feel fine -- knowing that you have what it takes to succeed.
We're going to cover a lot of ground in this module, just like in the last one. After that, the rest of the course will be smoothing sailing. I promise!
Because there is so much to go through, in order to keep it all organized so that you can easily refer back to specific sections, I've broken this module up into sections.
Following is a Table of Contents that outlines them.
TABLE OF CONTENTS
Lesson 1 – THE DEBATE AMONG SEO EXPERTS
Lesson 2 – WRITING SEO CONTENT: A HISTORY
Lesson 3 – ABOUT GOOGLE
Lesson 4 – DOMAIN AUTHORITY
Lesson 5 – LONG-TAIL KEYWORDS
Lesson 6 – HOW TO DO KEYWORD RESEARCH
Lesson 7 – WRITING SEO CONTENT: A REVIEW
Lesson 8 – AN IN-DEPTH LOOK AT THEMED SEO CONTENT
Lesson 9 – MODULE II EXERCISES
Lesson 10 – COMMON SEO WRITING SCAM
Lesson 11 – 6 SEO INDUSTRY SOURCES THAT KEEP YOU IN THE KNOW
Complete and Continue