A Quick, Easy Way to Start Landing Writing Gigs!
One of the easiest ways to start landing freelance writing jobs quick is on Upwork. It's the largest site for freelancers on the web, with thousands of new writing gigs listed daily.
Laura Pennington, a six-figure freelance writer, started her career on the site in 2012, and within 18 months built a six-figure freelance writing career. She can teach you to do the same.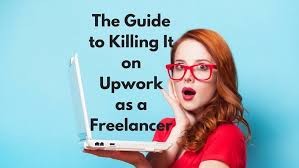 A $50,000 Editing Contract

Laura once landed a $50,000 editing contract there, and assignments where she gets retainers for as much as $25,000 (yeah, no kidding!). She's the "Queen of Upwork," in my opinion.
Stay In Touch
Here's where you can find me on the web and social media.
InkwellEditorial.com: Learn how to start a successful freelance writing career.
InkwellEditorial.Teachable.com: Inkwell Editorial's online courses.

InkwellEditorialPublishing.com: List of my fiction works (romance novellas).
NewMediaWords.biz: My SEO writing company.
GetaMobileCareer.com: Subscribe and get a free ebook on how to make money online in affiliate marketing. You'll also receive an invite to the private Facebook group I oversee.

I answer questions from newbies about affiliate marketing, and list tips, tricks, tools and opportunities that teach you how to make money online so you can live and work from anywhere as a "digital nomad." I also share my successes and failures in order to help you learn from first-hand experience.
Social Media Connect
I'm on a lot of social media sites, but these are the ones I hang out in regularly. I'd love to connect, so hit me up, and I'll follow you back.
Good luck on your freelance journey. You may not realize it yet, but this is a life change you're gonna look back on and say, "I'm so glad I did that! It changed my life forever."
My Biggest Regret about Freelancing
I've been freelancing in one form or another since 1993, and I can truly say that my biggest regret about stepping out on my own full-time is that I didn't do it sooner (like, right out of college).
Good luck on your freelance journey.

Yuwanda
Complete and Continue