Learn More & Enroll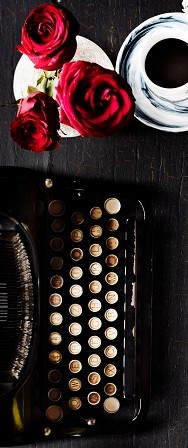 A Word from the Course Developer

If you've been yearning – yeah, get accustomed to using the language of passion now – to learn how to make money writing romance, boy, do I have a course for you!
I've been a reader of romance novels since my early teens, but I didn't write my first one until 2013. Since then, I've written over fifty more.
Short Romance Novels Sells – Very Well
Until 2019, I specialized almost exclusively in writing short "novellas." They're in the 10,000- to 30,000-word range, with most being between 20,000 and 25,000 words. I like writing stories of this length because it means I can write more of them faster – leading to increased earnings.
In 2019, I started writing longer novels (40,000+ words). These have sold well too, but I can't turn them out as quickly as the shorter ones. That's okay though, because this is my "forever" career.
I don't see myself ever retiring from writing romance because I love the genre so much, and I can fit it in with my other writing responsibilities (like creating and teaching ecourses).
Benefits of Writing Romance
Some other benefits include:
--->It can help you diversify your writing income, eg, if you're currently a freelance writer;
--->It's a fun, easy side hustle to start if you currently work full- or part-time;
--->It's evergreen, passive income because the books never have to be updated (like non-fiction, which does);

--->It's a mobile career that allows you to earn as much as you want;
--->You get to be your own boss – no publishers, editors, or anyone else telling you what, when and how to write;
--->You can give your creative mind free rein – writing and publishing any story your heart desires;
--->It can help you become a better writer (the more you write, the better you tend to get); and
--->It's just a heck of a lot of fun, especially if you like reading and writing this kind of fiction.
So if you've ever wanted to give romance writing a try, this free ecourse is for you. Once you finish it, you'll have a very good idea about whether or not it's a good fit for you.
Why Writing Romance Is One of the Easier Genres in Which to Make Money
Romance is one of the most popular fiction genres of all time, surpassing Sci-Fi, Crime, Religion and other niches by a wide margin -- in sales. The old adage, "Sex (and love) sells," is true. And boy, does it sell well!
At $1.44 billion, romance and erotica are #1 in sales, according to the link just above. That figure includes self-published romance novels. And, with 29 to 30 million dedicated readers, it's hard to miss if you write in this genre (emphasis mine).
More proof?
As anyone in advertising knows, sex sells. Consider the following stats from Romance Writers of America:
Romance novel share of the U.S. fiction market: 23% as of 2016

What formats of romance fiction are selling? E-books: 64%

The romance book buyer is 82% female and 18% male (yeah, dudes read romance too – and that number is growing by the way)


Age of romance book buyers: 35–39 years old
And check out the following stats, which is the best news for romance writers in my opinion.
How Often Romance Lovers Buy & Read Books
According to a Nielsen's Romance Book Buyer Report, romance fans are avid, loyal readers. Here are the jaw-dropping figures.
6% purchase romance novels more than once per week;


15% purchase at least once per week;


25% of buyers read romance more than once a week;


Nearly 50% read at least one a week;


25% read more than one per week; and



Only 20% read romance less than once a month.
To boil it down to one statistic, 80% of consumers in this genre are buying and/or reading at least one novel a month.
It's why even new authors who've never written a word in their life can make really good money writing romance, but …
There are some things you need to know to get them to become your loyal readers, and that's one of the things we'll cover in the full version of this course.
WHAT YOU DON'T NEED TO MAKE MONEY WRITING ROMANCE
Experience (I had none);


Money (you can literally get started for free);


An agent or a publisher; and



Great writing ability (you do need to be able to write, but you don't need to be a great writer – really!).
WHAT YOU DO NEED TO BECOME A SUCCESSFUL ROMANCE AUTHOR
Persistence;


The discipline to publish consistently;


A "like" for writing (notice I didn't say "love"; you don't have to love writing – but you definitely can't hate it); and


A computer/laptop; and



An internet connection.
WHO THIS CAREER IS IDEAL FOR
Romance readers who've always wanted to give this form of writing a try


Aspiring fiction writers who think, "Hmm, wonder if I could write romance?"


Stay-at-home parents who want to earn a part-time or full-time income


College students who like to write and want to earn extra cash


Retirees who like to write want to supplement their income


Digital nomad wannabes who like to write (those who want a mobile career)



Anyone who likes to write, likes romance and is willing to learn how to write it
What's Covered in This This Free, 5-Day Ecourse
Following is a breakdown of what we'll be discussing over the next five days.
Lesson #1: Proof That You Can Be Successful Writing Romance


Lesson #2: How to Get Over the Fear of Not Being a Good Enough Writer


Lesson #3: The Technical Side of Self-Publishing: What You Need to Know


Lesson #4: How to Create an Outline & Start Writing Your Romance Novel


Lesson #5: Self-Publishing on Amazon: Some Crucial Things You Need to Know about This #1 Selling Outlet

The full version of the course includes the following (and a lot more).
Downloadable Templates: Targeted, fill-in-the-blank worksheets that help you craft your story.


Writing Specifics: We get into the meat of writing romance: eg, character and plot development; how to create tension between characters; how to suck readers in from the first page – and more.


Ebook Marketing: I'll share all the mistakes I've made (so you don't have to) and the successes I've had over the course of publishing 50+ titles.


Biz Insight: On setting up a publishing company and what it takes to turn your romance writing into a full-time career if that's what you want.
ENROLL ME IN THIS FREE ECOURSE NOW
The Difference between the Ecourse & the Ebook
I wrote a very comprehensive ebook on how to make money writing romance, and you may be wondering – especially if you've read it – what's the difference between the two?

As I clearly state in that ebook, it is NOT about how to "write" romance; but how to "make money" writing romance.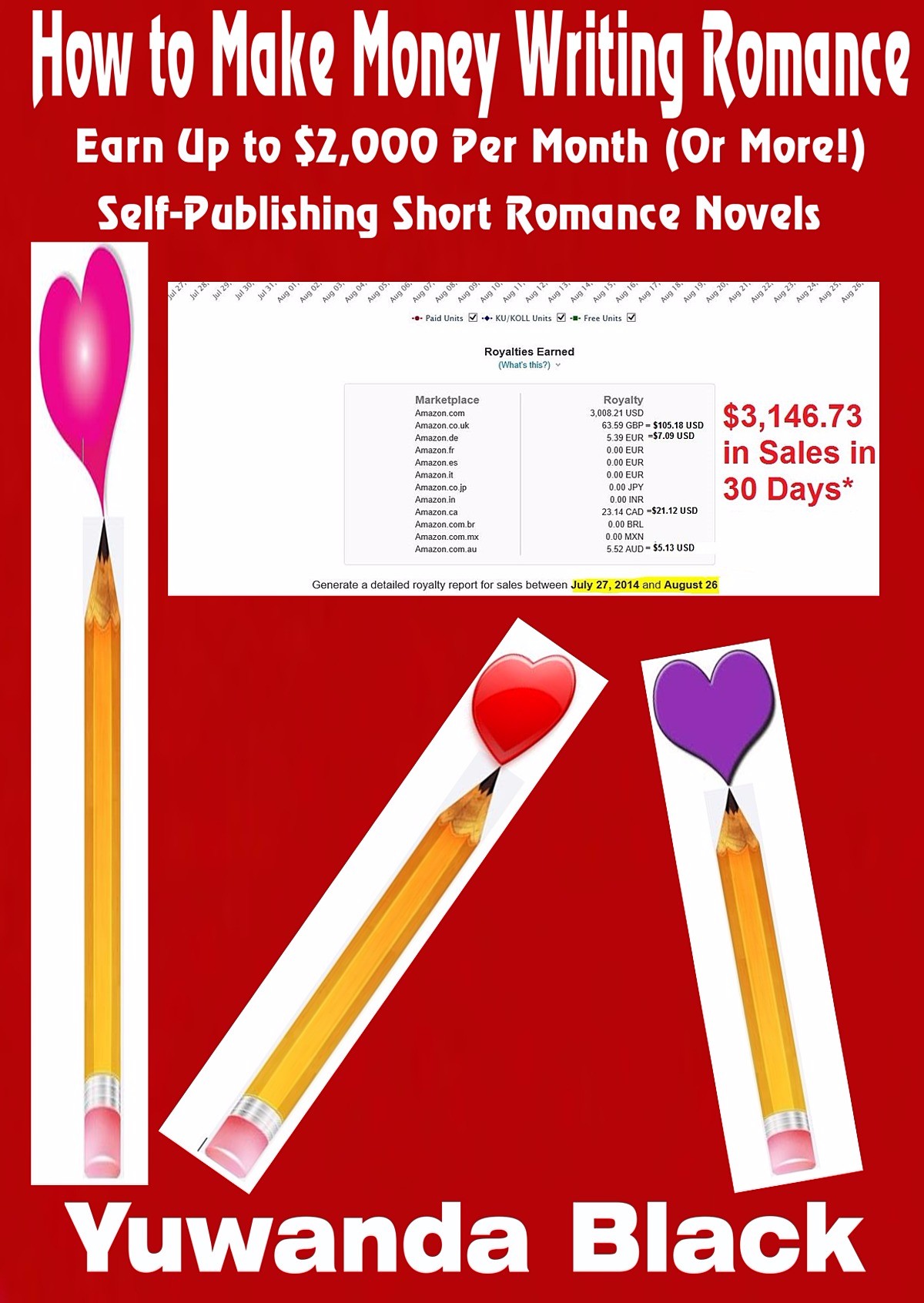 The core of this course is about "how to write" romance, along with so much other stuff I didn't touch on – or touched on briefly – in the ebook, eg:

Forming your own publishing company;


Hiring others write for you; and



Turning your romance writing into a full-time career, to name some.
As soon as you subscribe, you'll have access to all lessons.
About Lesson #1
It will alleviate any fears you have about whether or not you can be successful as a romance author. You can, and I'll explain exactly how I know this. This way, you can put that fear to rest and get excited about starting your romance writing career.
P.S.: Lifetime Access
All of Inkwell Editorial's courses here on Teachable come with lifetime access. This means you will always have the most up-to-date version of all courses you pay for – without doing anything. So even if you're not ready to embark on a romance writing career right now, you can enroll and start when you're ready.
Note: Price, of course, can increase at any time.
How to Pay with PayPal Using a Credit or Debit Card WITHOUT Getting a PayPal Account

You can use a credit card or debit card to via PayPal without creating a PayPal account. Following is how.
If a merchant (me/Inkwell Editorial) has PayPal listed as their payment option, you will automatically directed to PayPal's site. It will prompt you to log into "your" PayPal account. But if you don't have one, look for wording akin to what's listed in the graphic here, ie: Pay with Debit or Credit Card.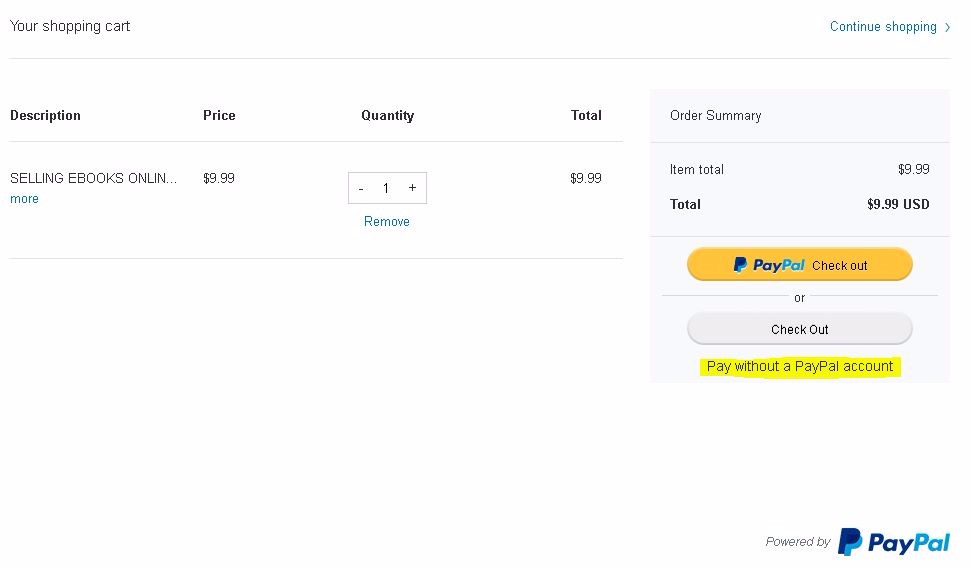 Click on the highlighted link. Then, you'll see a form that asks for your credit/debit card info. Depending on your country, you may be asked a combination of some and/or all of the following info:

Name

Address

Phone

Email

Country

Once you fill in this info, click on the "Pay Now" link, which you'll see at the bottom of the form.
Ready to Embark on This Exciting Journey? Enroll Now
Making a living writing romance is possible for anyone who can read and write; who enjoys reading and writing in this genre; who's willing to learn; and who has a computer and an internet connection. That's really all it takes – and hard work, of course.
One Final Thing You Should Know

The course consists of the 5 free lessons.
Also, you'll receive other follow-up info via email, eg, sales reports and tips on how to start and grow a romance writing business. So remember this, ok?
I look forward to interacting with you in class.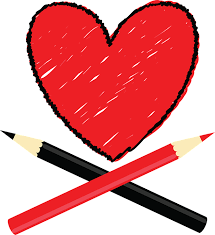 Here's to your romance writing success!

Yuwanda
P.P.S.: Get 3 free romance novellas when you subscribe to my romance writing newsletter.